At the start of the security conference, a round table discussion was held on the subject of "a turning point in time". Hourvash Pourkian asked whether adding the Iranian Revolutionary Guards to the terrorist list would be discussed at this conference. Dr. Christoph Heusgen and Ms. Jamila Schäfer, member of the Foreign Office of the Greens, replied that they consider this topic to be very important. In fact, the issue was debated at the MSC.
Inhalte von Powr.io werden aufgrund deiner aktuellen Cookie-Einstellungen nicht angezeigt. Klicke auf die
Cookie-Richtlinie
(Funktionell und Marketing), um den Cookie-Richtlinien von Powr.io zuzustimmen und den Inhalt anzusehen. Mehr dazu erfährst du in der
Powr.io-Datenschutzerklärung
.
Inhalte von Powr.io werden aufgrund deiner aktuellen Cookie-Einstellungen nicht angezeigt. Klicke auf die
Cookie-Richtlinie
(Funktionell und Marketing), um den Cookie-Richtlinien von Powr.io zuzustimmen und den Inhalt anzusehen. Mehr dazu erfährst du in der
Powr.io-Datenschutzerklärung
.
---
Hourvash Pourkian's speech at the protest rally in front of the Islamic Academy (Hozeieh Elmieh) on Saturday, 07.01.2023.
The chairwoman of the board of International Women in Power explains the meaning of the manifesto ,,Jin Jiyan Azadi'' = ,,Woman Life Freedom''.
---
On December 10, 2022, International Human Rights Day, we marched for the first time nationwide in six cities in solidarity with Iranian, Afghan and Kurdish women. In Hamburg, about 1000 comrades-in-arms protested for the observance of human rights, for democracy and freedom in the world.

In Iran, a young woman was murdered by the morality police because her hair was not completely covered by a headscarf. The brutal death of Zhina Mahsa Amini was the straw that broke the camel's back in Iran, he said. "For more than two months, we have seen people in Iran revolt against the mullah dictatorship. Today we can talk about a feminist revolution!" says Hourvash Pourkian. In Iran, protests against the regime do not stop despite the most brutal violence. The protesting Iranians are no longer willing to accept the oppression of the Mullah regime. Within the feminist revolution in Iran, an estimated 18,000 people have already been imprisoned, more than 600 people, including many children and young people have been murdered, although it must be assumed that the number of unreported deaths is much higher. We showed solidarity and set a sign against dictators and Islamists.

Starting with a rally at Dammtor, we marched through St. Georg to the Old Town, where we heard various speakers:
Hourvash Pourkian and Tabea Shmooeli welcome the participants of the Women's March in Hamburg!
Masih Alinejad, the most famous human rights activist to whom we owe the feminist revolution in Iran, supported our Women's March with a two-minute video message.
Hourvash Pourkian gives a welcoming speech.
Asieh Hadijan reads a message from an Iranian woman.
Necla Kelek, chairwoman of the association Säkularer Islam Hamburg e. V., gives a speech.
Gudrun Schittek, member of the Hamburg parliament for the Green Party, gives a speech.


Nasanin Bergmann gives a speech followed by a performance during the closing rally at the Women's March on December 10, 2022 for International Human Rights Day.
Marsala Ghousi, a young Afghan woman, gives a speech.

Refah Rahamian, a Persian woman from the Kurdish Ilam region, gives a speech.
Sorour, a Sister from the Sisters Network, reads a story from Iran.
Hourvash Pourkian, chair of the International Women in Power initiative, delivers a closing speech at the Women's March on December 10, 2022 for International Human Rights Day.
---
In protest, we gathered in front of the NDR headquarters in Hamburg on Nov. 21, 2022. We spoke out against the situation in Qutar which is contemptuous of human rights!
---
 Mrs. Hourvash Pourkian and many fellow compaigners demonstrated as part of a sit-in strike on Thursday, 13 October, from 11:00 a.m. to 05.00 p.m. in front of the Foreign Office in Berlin. There they explained their demands for a new Iran policy and collected over 200 signatures. As part of this event, an open letter to Foreign Minister Mrs. Baerbock was submitted to the Foreign Ministry. 
The Mideast Freedom Forum Berlin (MFFB), Zentralrat der Ex-Muslime Deutschland, Frauen für Freiheit e.V., International Women in Power and Junge Menschen von Barandaz, represented by Jasmin Maliki, were involved. Here you can get some impressions of our sit-in strike on October 13, 2022:
The following spoke: Dr. Kazem Mousavi from 'Green Party Iran'
Zan Zendegi Azadi – Woman, Life, Freedom.
Long live free and secular Iran!
The following spoke in farsi: Hourvash Pourkian, chairwoman of the association Kulturbrücke Hamburg e. V. and International Women in Power.
Our demands on the New Iran Policy, presented at the sit-in strike on October 13, 2022.
Impressions of the rally on 13 October 2022 Speech by Mr. Nick Jafarzadeh.
---
Hourvash speech 03.10.22
Hourvash Pourkian, Chairwoman of Kulturbrücke Hamburg e.V. as well as of the initiative International Women in Power will speak in welcome.
Hourvash Rede Demo 03.10.22(1).m4a
Hourvash Pourkian, chairwoman of Kulturbrücke Hamburg e.V. as well as of the initiative International Women in Power speaks to welcome the Day of the Open Mosque.
The salutation of our moderator Tabea Shmooeli at the rally in front of the Blue Mosque.
A speech by Dr. Necla Kelek, publicist and chairwoman of the association Säkularer Islam Hamburg, at the rally on Monday 03 October 2022, under the motto: "Women. Life. Freiheit".
A speech by Mrs. Gudrun Schittek of the Greens, at the rally
A speech by Mrs. Mina Ahadi, chairwoman of the Central Council of Ex-Muslims.
A speech by Mr. Ali Ertan Topra, President of the Federal Association of Immigrant Associations in Germany (BAGIV).
A representative of the Young Forus German-Israeli Society AG Hamburg will speak at the rally on Monday, October 3, 2022.
A speech by Ria Schröder, member of the Bundestag of the FDP.
A speech by Mr. Christoph de Vries, Member of the Bundestag of the CDU. 
Iranians and Hamburgers demonstrate together and demand suspension of the state treaties as well as the closure of the mosque of the Islamic Center Hamburg as long as the Islamic Republic of Iran is in power!!! As a sign of protest, Iranian women cut their hair to draw attention to the existing headscarf compulsion in Iran.
---
With the Taliban coming to power, the basic human rights achievements that the country has introduced in the last two decades are in catastrophic lag and for women, hell on earth again. The country has 4 million male and female graduates. There were well-educated young people. A middle class has emerged now style stand and violence prevails. Women who protested for basic rights were kidnapped and tortured. Afghan women warned the world about the Taliban's actions, but their voices were again ignored. The consequences have been terrible, not only for Afghan women, but for the entire country, which has been transformed into a humanitarian disaster. The Taliban's strategy should be reciprocated as Afghan women's rights activists have long demanded:

1) All negotiations with the terrorists must cease immediately.
2) The Taliban must not be officially recognized, nor should aid money flow to them. Humanitarian aid should be provided exclusively through independent NGOS.
3) Women's rights activists under threat should be evacuated from Afghanistan as a priority. Afghan women must also be protected from threat and persecution abroad.

To prevent the total gender apartheid sought by the Taliban, it is important to establish a roadmap for Afghanistan's future negotiated exclusively with Afghan women's representatives. EU governments should adhere exclusively to this roadmap. Foreign Minister Annalena Baerbock should stick to her "feminist foreign policy that she announced. The examples of Afghanistan & Iran show that this has been an empty promise from her so far, ladies and gentlemen. As international women, we condemn the dangerous discrepancy to date between the verbose condemnations of the Taliban in government statements and the de facto creeping rapprochement and acceptance of the terrorist group by Western governments. We would like to remind our governments that women's rights are among the universal, inalienable and non-negotiable human rights. Because: Peace in the world is created with women!
Hourvash Pourkian`s speech on the protest march on August 13, 2022 against the recognition of the Taliban!
---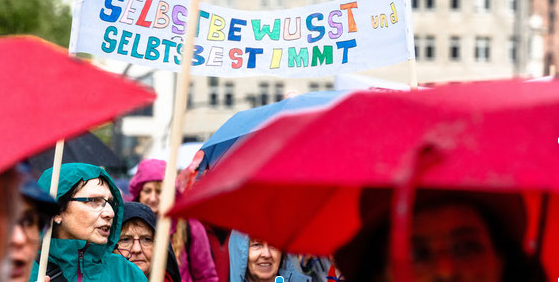 Before the joint march around the Binnenalster and through the city center, the main organizer, Ms. Hourvash Porkian, and her fellow exhibitors took the stage.
Mrs. Hourvahs Pourkian, chairwoman of the association Kulturbrücke Hamburg e.V., greeted the marchers as well as demonstrators with a good mood and emphasized her concern and the goal of the "Women -and Migrants March" in her following speech with motivation:

"Hello Hamburg! Hello cosmopolitan city of Hamburg!
Hello, bonjorno, bonjour, ola, Nihau, priviete, merhaba, choshgaldis, namaste, asalamonaleikom, ahlam va sahlam, Shalom, kalimera, Roj bash
Dorud va salam be dustane gerami va Hamvatanane aziz choshamadid.

Dear audience, dear people of Hamburg,
I warmly welcome you to our civic action "Women's March" under the motto "Women empower women" and open gates and open hearts.
We stand for our democratic values, freedom and human dignity. Human dignity is inviolable and is our highest good, which is unchallengeable according to our constitution article 1. In Farsi: keramate ensan gheire ghabele enkar ast.
And translated into Arabic by a young man!
Our core themes are self-determination, humanity, mutual respect, peace, freedom and democracy "diversity of people and cultures".
We oppose all forms of racism, discrimination and misogyny and xenophobia.
We say no to all those who want to divide our society with right-wing populist propaganda and religious fanaticism and thus try to shake our fundamental rights to peace, freedom and democracy.
What unites us are our democratic values that have shaped our international city and our entire country over the past decades.
We will tie the blue ribbons to each other before our march and make a sign for democracy and for European Union. Do you agree with that?

When we come back, we will have an artistic program. We want to celebrate the diversity of people and cultures. Everyone will have the opportunity to talk with our newcomers.
If we would take time 1 x a month and visit the people who are brand new to us and make them feel that they are welcome here, that would be excellent. They are all learning German but they have no practice.
We should show them the way to vocational training, political education and the labor market. We have to educate them about our basic rights and democratic values.
The support is education and enlightenment, ladies and gentlemen, We women on the move until all women in the world are free."
Due to some criticism and uproar against the planned speaker Dr. Necla Kelek, her speech was deleted from the program. The German-Turkish sociologist is considered a committed women's rights activist and critic of Islam. However, it turned out at the event that many of the demonstrators were also sympathizers of Dr. Necla Kelek. Their signs reading "We want to hear Necla Kelek" made their attitude towards her clear. After several requests from Ms. Hourvash Pourkian, the demonstrators and protesters agreed for the speech contribution, so that Dr. Necla Kelek, contrary to what was announced, spontaneously gave her speech and also found a hearing among the people.

"Dear women, dear feminists,

I welcome you as a women's rights activist and as one of the spokespersons of TERRE DES FEMMES to the "Womens March".
We have achieved a lot - women have equal rights in this country, in our Constitution, in the Charter of Human Rights, as voters,women are in political and social responsibility, they govern and lead institutes, business enterprises and are a natural part of the public.
And although there is still much to be done, because there is still no equal pay for equal work, and women and mothers often have to take on the upbringing of children alone, we can say that the feminist movement has achieved a lot.
Some even think so much that they put being a woman against being a man and think that not equality, but the abolition of gender boundaries or differences in language and everyday life would be the main task of the women's movement.
What is often forgotten and overlooked in all these successes is that these freedoms and rights do not apply to all women and girls in this country.
They do not apply to the sex slaves in the brothels who are almost exclusively abducted from Eastern Europe or called with false promises, who have little protection and are left alone. and they also do not apply to the overwhelming number of women and girls who live in this country under a guiding culture that is different from the constitution.
I am referring to the women, girls, and sisters who are or must be subjected to the guiding culture of religious laws.
Yes, I am not talking about diversity, I am talking about submission.
Submission to a patriarchy, the rule of men and religions that demand, live and legitimize submission.
The great French feminist Simone de Beauvoir, in her work "The Other Sex," described the social role of women thus: "One is not born a woman, one is made one."  The Western world has recognized and revolutionized this role ascribed by the male-dominated society.
This revolution is yet to come for us of Muslim descent, for example. I say:
The woman is not born a Muslim, she is made one.
- By the fathers who maintain patriarchy, "father's state," domination over women when they keep women in their homes and control them in public,
she is made to be
- By the mothers who teach their daughters submission, who make their sons princes
She is made so
- By the men who think women are "their honor".
She is made so
- By the brothers who think they have to guard their sisters.
And it is made so and legitimized by a book, the Koran and the traditions,
- Which does not consider women and men as equals, but only as equals.
- That in the Koran describes women as sexual beings, as in Sura 7, verse 189: "He has made of him his wife, that he may dwell with her."
- Forcing women and girls under the veil, thus invoking apartness.
- reduces the child or the woman through the headscarf to a sexual being that has to veil herself in front of men. We demonstrate against this deprivation of freedom.

Women demonstrate that all children
- have a right to childhood and to grow up without religious paternalism.
- To physical integrity. Against circumcision of girls or boys for religious reasons as an act of subjugation.
- Also girls must learn gymnastics and swimming, because who can swim will not sink otherwise.
- The right to decide for oneself if, when and whom one wants to marry.
- The right to believe but also not to believe.
- The right not to wear a headscarf, because it is not the woman who has to veil herself in front of the man, but the man has to treat her respectfully as a human being.
Because the woman as a human being is a part of nature and not a part of the man.
She has the right to feel the sun on her skin, the snow in her hair and the sea with her body. She has the right and the responsibility to interfere in her own business. Women's rights are human rights and part of the European guiding culture - they must also apply and be enforced for Muslim women and for all migrants. The right to freedom and equality is not arbitrary and oppression cannot be relativized as diversity and diversity of other cultures. The freedom of every single woman must be conquered and defended.
That is what we are demonstrating for. Make Feminism great again!"

Dr. Necla Kelek, Hamburg May 13, 2017